Painting The Town Red For #RedAlert RESTART

GearSource
The live event industry came together for a gig. Competitors unlocked their warehouses and dusted off gear, and crews were created with volunteers. Nobody got paid. But if the #RedAlertRESTART event on Sept. 1 did its job, money could be coming in, in the form of government assistance to all those companies and individuals in the industry who are financially suffering from the Covid-19 pandemic. It will take continued efforts to urge Congress to vote to pass the expanded unemployment benefit legislation.
#WeMakeEvents
#WeMakeEvents is behind the efforts. On a happy hour Zoom call, Marcel Fairbairn and others discussed how the UK's live event industry lit more than 700 buildings in red light to point out the plight to its lawmakers. Why not follow that example in the U.S.? It would further enhance the efforts of industry leader Michael Strickland as well.
For an inside look and more legislative details, visit www.plsn.me/MF-Red and www.wemakeevents.org.
Joining Fairbairn on the national committee are Brad Nelms, Ellen Lampert-Greaux, Andrew Gumper, Marsha Stern, Matt Guminski, Chris Aasen, Cosmo Wilson, Sharon Gross and Jonas Loeb. This group designated regional directors, who in turn mobilized volunteers and gear, and two weeks later, #RedAlertRESTART saw more than 2,000 venues, landmarks, and residences across the U.S. turn fire-alarm red.
In this case, the red light was designed to make a sound. Fairbairn says. "We wanted a voice for our forgotten industry. We wanted to do something meaningful, and be heard. We did – and we were."
The Color Red
While the color red was chosen to visually "sound the alarm," some regional directors told Designer Watch they were turned away by city officials in this turbulent election year when colors denote political party affiliations. But overall the event was a success. On Sept. 1 alone, #WeMakeEvents reached 1.5 million on social media; had 45,000 website visits with 9,500 letters sent directly through it to Congress; and an estimated 10,000 individuals and companies were directly involved in lighting structures.
Along with national and local news coverage, and social media exploding with red photo postings, Fairbairn says, "We know – because we've seen it – the politicians we targeted to get RESTART passed have heard us, they know who we are, and that we will no longer sit quietly while other businesses are back open, or receiving all of the focus while we remain sidelined."
Designer Watch checked in on some major cities across the U.S. for their red night results. While #WemakeEvents wishes to thank everyone involved, their mantra is to keep company names and brands out of the spotlight. As one committee member says, "Everyone pitched in to help and we're all in this together. This is not marketing; this is one voice united for a cause."
Now let's do some virtual traveling.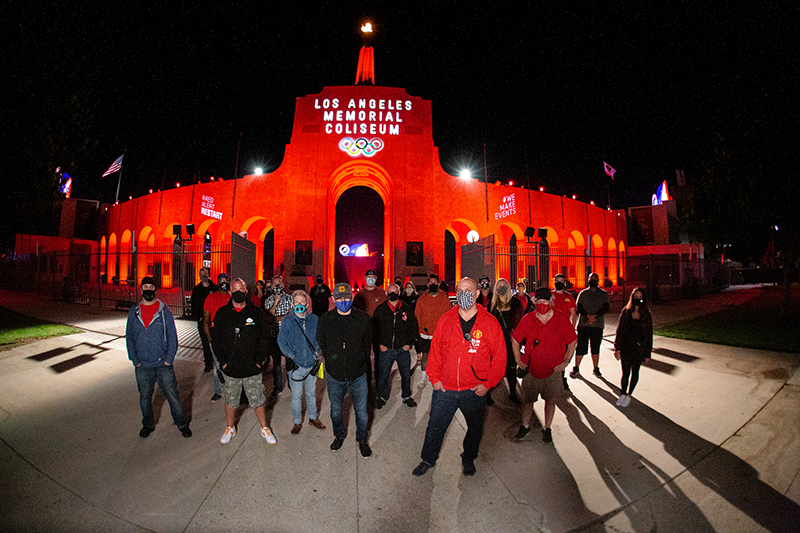 Los Angeles Memorial Coliseum. Photo by Britt Bowman
Los Angeles
Regional Director Patrick Whalen rounded up teams to turn L.A. red, including Los Angeles Memorial Coliseum (LD Jeff Ravitz) and Banc of California Stadium (LD Bud Horowitz).
"Jeff Ravitz, Chris Gratton, Stuart Ross, Bud Horowitz and many others volunteered their time and talent for this amazing project. The whole day we were laughing and joking," says Whalen. "It brought hope and smiles that we were back doing what we loved. I kept saying 'I forgot where I put all my production equipment, took me three days to find and pack for this.' This became the theme. We all were glad to be out of the house, moving and touching gear. When the sunset and the buildings began to glow red, it became tough to hold back emotions that many of us had buried since the start of the pandemic. The one thing in common: we all donated our time, our brains, our equipment to unite and send our message loud and clear. We love our industry and we need help! I have never been on a project where there was this much love and feeling we all belonged here in this spot at this time."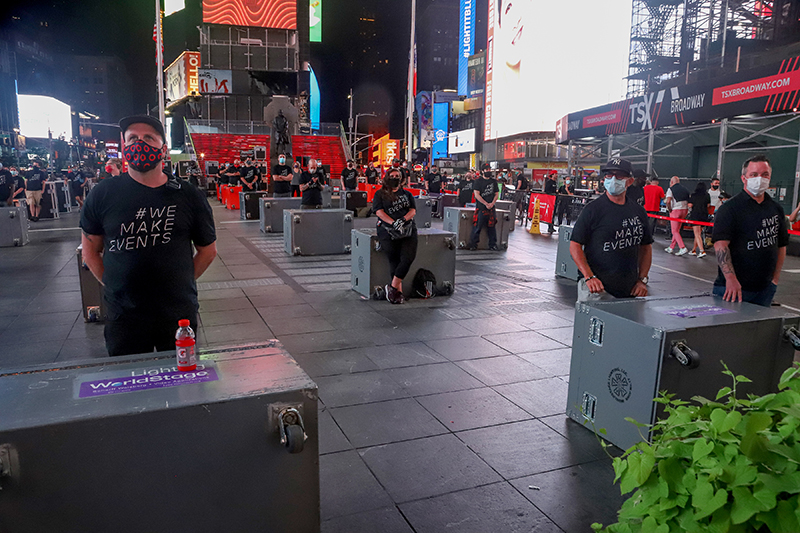 Times Square Activation of 172 road cases. Photo by Jeff Eason
New York City
LD Matt Guminski coordinated efforts with New York Regional Director Kelly Easterling. In the crowded city skyline, the visual standouts included Empire State Building, Radio City Music Hall, Madison Square Garden, MetLife Stadium (NJ) and spires of the World Trade Center, among the multitude.
But the activation of Times Square made a more compelling visual, in which 172 road cases from local companies manned by about 200 unemployed industry crew illustrated the shutdown event industry. While the city couldn't provide a permit of assembly because of Covid-19 gathering restrictions, they did give permission to "freely protest," Guminski says.
The New York Police Department understood the meaning of the event. Dressed in NYPD blues rather than riot gear, they kept people out of the road case activation area. "It was nice solidarity from the NYPD," Guminski says. "We didn't have stragglers walking through. We loaded in and they kept the area roped off. We also got a Times Square billboard for 10 minutes where we were able to show a graphic image about RESTART. Load in at 6 pm, went live on the Facebook livestream at 9 pm, and by 10:15 pm we were loaded out. It felt funny because it felt like a load-in. We had people pushing cases. It was beautiful: 'Ah, I'm loading in a show.' "
He adds, "The activations show what our industry can do. It is cliché but in our industry we are taught that if we are doing our job right, you don't see us. But it is time for us to come out of the shadows and be seen."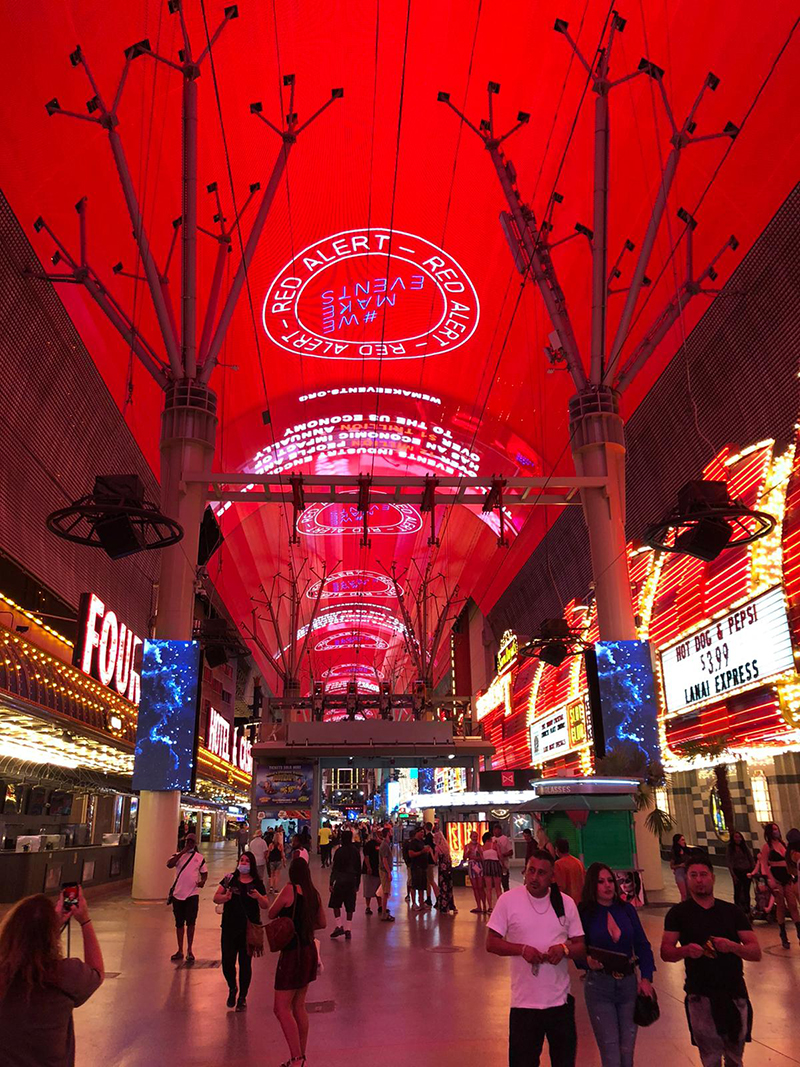 The Fremont Street Experience. Photo by #WeMakeEvents
Las Vegas
Vickie Claiborne had already been organizing an attention-getting walk, called WE WALK for Events and Entertainment in Las Vegas, when the #WeMakeEvents National Committee member Andrew Gumper asked her to join the Vegas RedAlert team.
"We had access to just about any gear we wanted from almost every vendor in town," Claiborne says. "Folks came forward with leads on everything from generators to boom lifts. Our network reached out to every corner of the city, and we had the support of the local IA 720 and the Musicians Union. Everyone from the 68,000 people in Las Vegas who have lost their livelihoods have volunteered time, equipment and money to support us."
While casinos on the Strip declined to participate, the Plaza Hotel & Casino gave them the green light to go, and a pyro/laser show was planned, along with performances from stage and acrobatic performers who had also lost their livelihoods.
Professional stage managers Erica Santucci and Marci Skolnick handled celebrity PSAs and the press. Santucci even managed to get Myron Martin, the CEO/President of the Smith Center on board for the Truss Garden, which featured 68 pieces of truss, each representing 1,000 out-of-work event professionals in Vegas. Agreeing to add a road case push to illustrate the message, Martin himself pushed Case #1 for the entire time.
Other highlights included the Fremont Street Experience, the Thomas & Mack Center, a red fireworks display and a vehicle parade allowing participants to join in while maintaining social distancing. What happened in Vegas didn't stay in Vegas: the event hit the jackpot in a wealth of media coverage.
The historic Chicago Theatre. Photo by Robb Jibson
Chicago
LD Charles Ford, regional director for Chicago, reached out to LD Robb Jibson of SoMidwest to head up lighting the Museum Campus area along Lake Michigan. Jibson literally mobilized his efforts.
"We thought that it would be silly to sit in one place for four hours that honestly no one would be, the tourist areas of Chicago are shutdown due to pandemic and looting," Jibson says. "So we created a team and devised a plan to put together a mobile rig and make 11 stops along the way! Carrying six wash lights, two spots and a generator, we hit The Metro, The Vic Theatre, the Athenaeum Theatre, The Biograph Theatre, Lincoln Hall, The Merchandise Mart, the historic Chicago Theatre, Wintrust Arena, Soldier Field and wrapped up at the Prudential Building at the head of Grant Park. Woof. What a night!"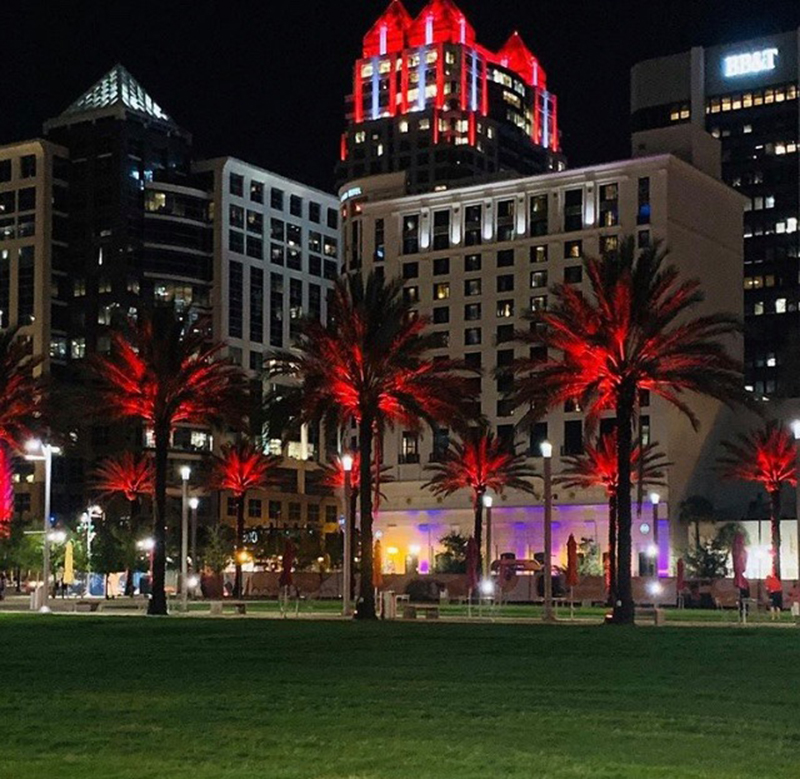 The old SunTrust Tower in Orlando. Photo by Scott Bowman
Orlando
LD Cosmo Wilson got the ball rolling in Orlando. But when the World Trade Center's "Tribute In Light" Memorial, previously canceled, was back on for Sept. 11, he flew to New York and handed the regional director reins to Lyn Henderson, CMP.
As a certified meeting planner, out of work since mid-March, Henderson had a vested interest in drawing attention to the plight of the industry. She filled her vision board with photos of her targets, formed a core team with Joe Lapchick, Jesse Durlin, Jim Hobart and Scott Bowman, and after two weeks of 14-hour days, got 40 buildings lit.
She did most of the cold calling, letter writing, ground reconnaissance and schmoozing, plus calls cajoling reticent buildings, and booking/confirming of the main buildings: Amway Center, Camping World Stadium, Orlando City Soccer Exploria Stadium, Orlando City Hall, Lake Eola Fountain, Dr. Phillips Center for the Performing Arts with the Seneff Arts Plaza, and the Old SunTrust Tower – our 'Empire State Building'," she says. She also convinced family friend/celebrity band leader Paul Shaffer and Florida House Representative Anna Eskamani to shoot supporting public service announcements.
Declaring it the best and most meaningful event she's ever worked, Henderson adds, "I hope to continue this advocacy, until the RESTART Bill is passed (written by Sen. Bennett of Colorado), and all our peeps have financial relief and get their jobs back, or new ones in the live entertainment field. It's my mission!"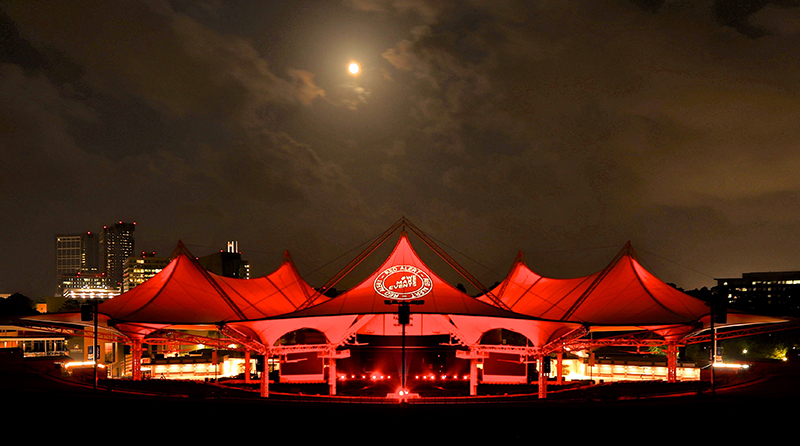 Cynthia Woods Mitchell Pavilion in the Woodlands outside Houston. Photo by Hunter Jones.
Houston
"It felt great to knock the dust off and for such a great cause," says Regional Director John Dickson. He reports in with a successful showing in Houston lighting City Hall, Jones Hall, Wortham Center, George R Brown Convention Center, BBVA Compass Stadium, Toyota Center, Smart Financial Center, Cynthia Woods Mitchell Pavilion, White Oak Music Hall, Revention Music Center, Warehouse Live, NRG Park, The Bridges on 59, among others.
His All-Star team consisted of Kat Harris, Graeme Lagden, Chris Stuba, Kurt Kalivoda, Troy Eckerman, Jason Kutack, Keith Wailes, Nathan Brittain, Lance Williamson, Bill Bowers, Shimshon Zeevi, Jacob "JR" Jordan, Jeremy Kelley, Tim Nowicke, Jack Spitler, Cameron Beasley, John Busing and Juan Mendoza. Labor crews helped from IATSE Local 51 and Upstage Center. "There are probably more that I forgot," he adds, thanking everyone who volunteered support and gear in the Lone Star State.
Austin Local Union 520. Photo by Zach Boswell
Austin, Texas
Regional Director Zach Boswell had a long list of clubs like Stubb's, and musical venues such as The Long Center for the Performing Arts and the Paramount Theatre that he wanted to wash in red light.
While he got no support from the city officials on a host of other structures – odd, because it does declare itself the Live Music Capital of the World – he still managed to make a statement. Of his 35 volunteers, he was humbled by two who were former full-time workers he had furloughed this summer. Even competitors in the lighting world came together for the common cause. Because Texas is a right-to-work state, he's not legally required to work with IATSE, but the local #205 was "crucial" in lighting the Paramount and the Long Center. Even cultural heroes Willie Nelson and Stevie Ray Vaughan – in statue form – got special treatment as well.
"It felt good to lead a charge," Boswell admits. "I have been in a mentally dark space and this lifted me up, as I'm sure it did a lot of folks. There is a fog on the other side of this and we can't see where it ends. We have no time line. This event gave my heart a boost. We're looking for money from the government but also a bit of hope, and that came across."
While this physical work was done, the mental work is still to come to get the RESTART Act passed, he adds. He planned a road case push on Sept. 8 to keep the momentum going. "The #WeMakeEvents thing is not over. We have to stay on this. Everyone agreed it is not time to rest on our laurels."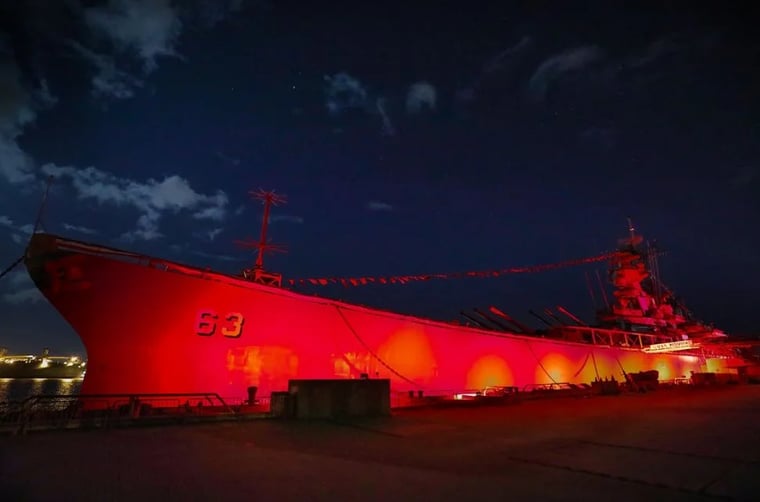 The USS Missouri in Honolulu. Photo by Bob Harmon
Honolulu
Bob Harmon and a talented team of Hawaiians lit the world's most famous battleship, The USS Missouri red along with other venues.
#RedAlertRESTART Credits
National Committee
Marcel Fairbairn
Brad Nelms
Ellen Lampert-Greaux
Andrew Gumper
Marsha Stern
Matt Guminski
Chris Aasen
Cosmo Wilson
Sharon Gross
Jonas Loeb
Regional Directors RedAlert RESTART Sept. 1 event –
Alex Bruce/Helena, MT
Andrew Giffin/Pittsburgh, PA
Allen Byassee/Memphis
Amy Kelley/Dallas
Andy Boucher/Savannah, GA/Charleston, SC
Angela Leachman/South Bend, IN
Bill Digneit/Detroit
Bill Kirby/Omaha, NE
Bill Murray/Providence, RI
Bob Harmon/Honolulu
Bob Williams/Indianapolis
Bruce Hendrix/Charleston, WV
Charles Ford/Chicago
Chris Gerhart/Charlotte, NC
Christine Volpe/Philadelphia
Corey Easterbrook/Tampa/Ft. Myers, FL
Dan Edwards/Madison, WI
David Milly/Gulf Shores, AL
Donny LoDico/Phoenix
Drew Hornback/Chattanooga, TN
Gary Guberman/Reno, NV
Hannah Kirschner/Erie, PA
Heather Cossette/Tuscon, AZ
Joe Cole/Seattle
John Dickson/Houston
John Niles/Portland, OR
Jon Whitsell/Santa Fe, NM
Justin Hickman/Olympia/Tacoma, WA
Justin Lang/Washington, DC
Justin Young/Huntsville, AL
Kelly Easterling/New York City
Kris Kirkwood/Kansas City, MO
Lyn Henderson/Orlando
Marc Hayes/Davenport, IA
Maria Mendoza/San Francisco Bay
Matthew Helmick/Cincinnati
Michael Guyre/Barrington, NH
Olivia McGahan/Northern Humboldt County, CA
Ray Ziegler/New Orleans
Robert Roth/Atlanta
Robyn Schultz/Milwaukee
Ron Watkivs/Ft Lauderdale, FL
Ryan Knutson/Denver
Ryan Seybert/Cleveland
Sean Sergeant/San Antonio, TX
Seth Scott/Minneapolis
Shawn Lear/Nashville, TN
Stephen Barnette/Jackson, MS
Todd Gerrish/Boston
Veeran Sookoo/Trinidad/Tobago
Vickie Claiborne/Las Vegas
"Quake"/Buffalo, Rochester, Syracuse, NY
Zach Boswell/Austin, TX