A Fully Reimagined GearSource: Instant Shipping Quotes and Cross-Border Payments Made Simple!

GearSource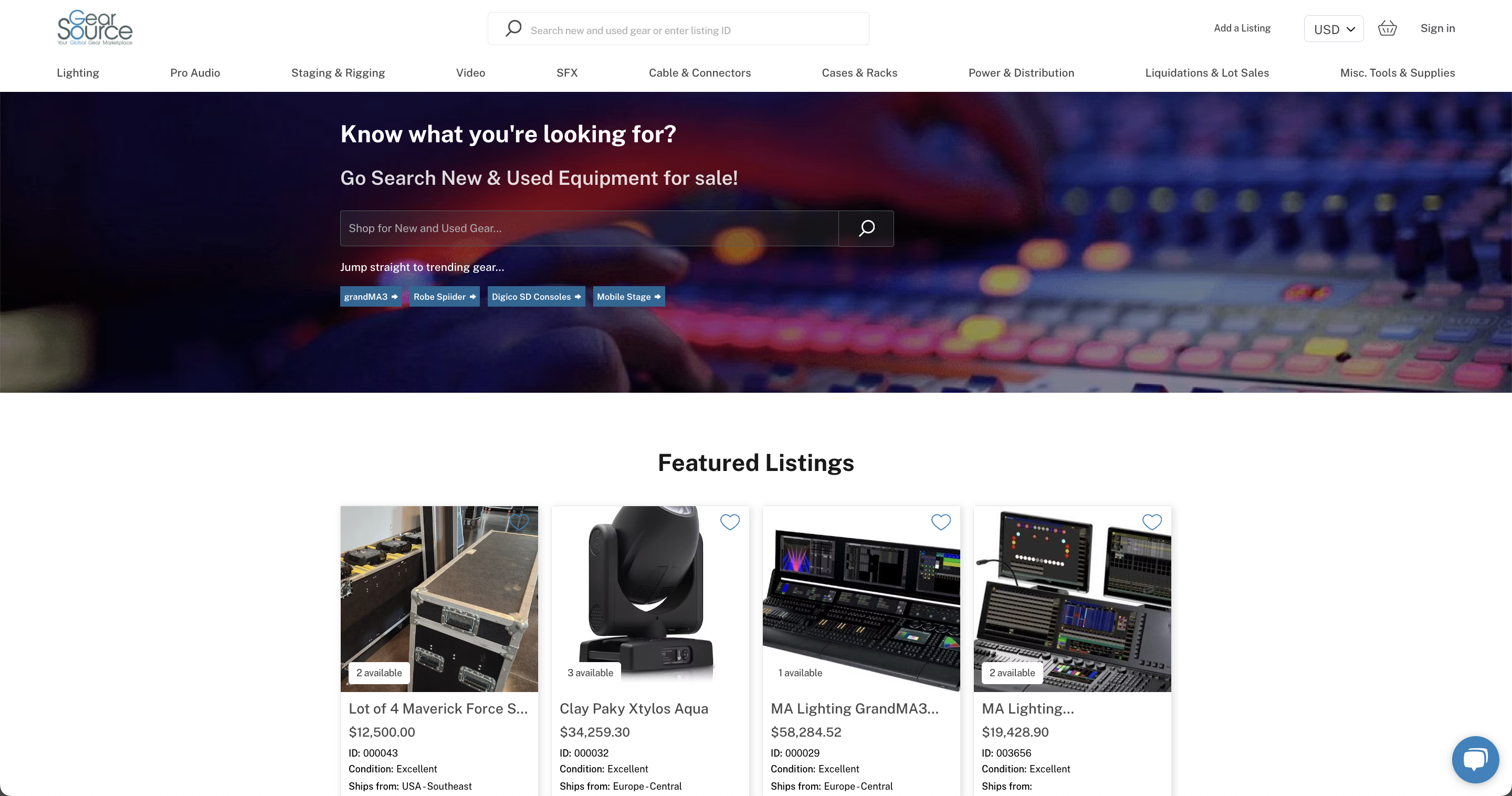 Gear up for Hassle-Free Transactions with GearSource 4

Hey there, gear enthusiasts! Are you tired of the lengthy process involved in buying and selling your favorite music equipment? Say goodbye to the hassles involved in buying and selling your sound, lighting, staging and video gear! GearSource, the leading marketplace for professional audio, lighting, staging, and video equipment, has recently launched its newest platform. And trust us, it's a game-changer!

Instant Shipping Quotes:
One of the major pain points for gear sellers and buyers is the hassle of arranging shipping and handling, or waiting for sellers to respond with quotes. But not anymore! GearSource has heard your cries and managed through this challenge for 20+ years! In GearSource 4, the company introduces a new feature that will make your life a whole lot easier. Directly integrated within the shopping cart, you can now obtain instant shipping quotes for your transactions. Yes, you read that right! No more endless back-and-forth conversations with GearSource, sellers or shipping providers. With just a few clicks, you will get accurate shipping quotes and choose the option that suits you best. This includes complex international shipping as well. Talk about convenience!

Reimagined Cross-Border Payment Handling:
If you've ever bought or sold gear internationally, you probably know how challenging the payment handling and security process can be. And also the increased costs, including international wiring fees and currency conversions. But worry not, fellow GearHeads! GearSource has partnered with a global banking and online payments provider to revolutionize cross-border transactions on the marketplace. With our new integrated banking system, you can wave goodbye to the headaches of currency conversions and hefty international wire transfer fees, plus, our state of the art "KYB" security, plus payment escrow ensures your funds are always safe. The GearSource platform seamlessly handles cross-border payments, ensuring a smooth and secure transaction experience. Now, you can expand your inventory options without worrying about the complicated logistics of international transactions!

Fully Integrated Banking:
Speaking of banking, GearSource has taken payment flow to a whole new level. It offers fully integrated banking services, allowing you to manage your finances without ever leaving the platform. Whether you're receiving payments for your sold gear or purchasing new equipment, you can now manage all of your financial transactions on the platform. This not only saves you time but also ensures that your financial details (and funds!) remain safe and secure. It's like having your own personal banker, right at your fingertips!

In a world where we're always in a hurry, and the show must go on - GearSource's new V4 platform with instant shipping quotes, cross-border payments, and fully integrated banking services is a dream come true for the company's valued users. It simplifies the buying and selling process, making it more convenient, secure, and efficient. While these features may not be essential for everyone, they certainly make a significant difference for those involved in the production and rental industry in particular. So, whether you're a professional sound or lighting company, a pro-user, or someone looking to upgrade your gear, the fully revised GearSource is worth checking out. Embrace the future of the global gear marketplace today!